PAULA VEGA (1825)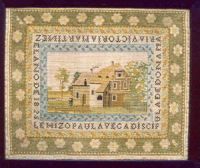 A wonderful Spanish sampler made by Paula under the instruction of Maria Victoria Martinez in the year 1825. Like so many Spanish samplers, the pattern bands are worked around all four sides, surrounding the main pattern in the center, in this case a Spanish hacienda. Numerous Spanish
samplers use a variety of stitches and in particular satin stitch, double running, and cross stitch. Our sampler is worked entirely in cross stitch and the surface is completely covered. From the collection of The Essamplaire. The stitch count is 244 x 187 and it is done on 40 count (16
thr/cm) linen. Original sampler shown in photo.
Size: 12 1/4" x 9 1/4" (31cm x 23.5cm)
Thread Count: 40 count (16 thr/cm) line
Colour:
Recommended Level: Beginner
Cost: Chart $22.00
Categories: Central & Southern Europe
ID: 220
All prices are in US Dollars.