Pastoral Panel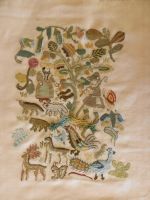 There is enough interest in offering the pastoral panel as an on line class, the only way it will be offered. Stitches used are detached buttonhole, trellis, Ceylon, stem, up and down detached buttonhole, venetian picot, plaited braid, spider wheel, cretan, ladder, encroaching satin, van Dyke stitch, coral stitch and moss work. Various metallic threads are used. We will also look at making our own gimp. You will need either a slate frame or a four sided frame as the ground fabric has to be taught. The design will be traced, by you, on a heavier weight linen fabric which is supported by a light weight linen fabric. All these supplies will be included and there will be a total of six lessons. The top linen section measures 14" x 18" and the bottom one measures 16" x 18". The bottom section has the linen edges finished with cotton tape and the top section will be stitched onto this ground. We will look at lacing it into a slate frame. Cost $170 plus six lessons at $12.50 each. Deadline for registering is May 6th and the class will start early June.

Size:
Thread Count:
Colour:
Recommended Level:
Cost: NA
Categories: This Year, Teaching Samplers and Classes
ID:
All prices are in US Dollars.