Hello Everyone,
This will be our first official newsletter. If you receive this more than once please let us know so that can be corrected and let us know if you do not wish to receive this. It will be a good idea to add our e-mail address [email protected] to your address book so that the news letter makes it to your inbox.
Exhibits
If you happen to be in Glasgow this Spring check out Scotland Street Museum. They have an exhibit on until June 15th, Stitches in Time: Tales from Glasgow Museums European Costume and Textile Collection. Click here to see more about the exhibit.
The Art of Embroidery — March 21 to May 4
This exhibition shows some of the rarely seen treasures from Calderdale's collection of embroideries. Historically, embroidery has been a professional activity carried out by both sexes, as well as domestic craft largely associated with women. On display are a range of European embroideries, all variations on a floral theme, dating from the seventeenth to the nineteenth centuries. Click here to see more about the exhibit.
Belgium — April 4 to July 5
An exhibit of samplers. Click here to find more information.
Netherlands — Till April 30
Museum de Roos, Geertruidenberg. The sampler exhibit is up till April 30. Click here for more information.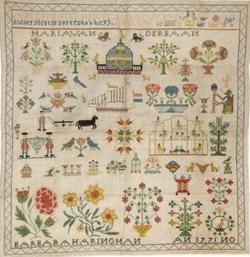 Historisch Museum de Bevelanden
April 4 to July 4
This is an exhibit of Barbara Harringman's samplers and her famous ancestors. Barabara was born in 1758 and stitched a number of samplers of which a number are dated 1771. The name, Mara vander Baan appears on these samplers as well. She stitched a sampler, a darning sampler, a queen stitch sampler, a tapestry style sampler, a silk embroidery and a pictorial Biblical one. Maria was her instructor and taught at a French boarding school for girls in Zierikzee, in the province of Zeeland. Click here and then on the left click on wisselexpositie and then at the top on Colijnsplaat for more information.
The following website for Welsh heritage and culture shows of their collection of samplers: http://www.gtj.org.uk/en/arts-and-culture/decorative-arts/samplers/
Linda Eaton, curator from Winterthur supplied us with the following: One of the new acquisitions at Winterhur is a canvaswork picture worked by Olevia Rebecca Parker at the Lombard Street School, Philadelphia 1852, in its original frame. The Lombard Street School, a public school located on Sixth Street near Lombard Street, educated Philadelphia African American students for many years, beginning approximately 1828. Olivia (Olevia) Rebecca Parker (circa 1838 - circa 1882), was an African American who lived her life in Philadelphia. She was the daughter of Adam and Olivia Parker; both born circa 1801 in Maryland and lived much of their lives in Philadelphia. The 1850 census shows the family, consisting of Adam, Olivia and five children (Thomas, Elizabeth, Rebecca (aka Olivia Rebecca), George and Theophilus) living in the Southwark ward. Both Adam and his eldest child Thomas indicated that they were waiters. Olivia Rebecca Parker would have been age 14 in 1852 when she attended the Lombard Street School and worked this sampler. By 1860, according to that census, Olivia was married to an African American dentist, Joseph Brister (born in Pennsylvania, circa 1835) they were the parents of two children, Olivia, age 3 and James, age 1.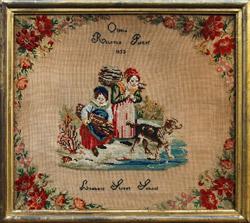 They family lived with Olivia Rebecca Parker Brister's mother and three of her siblings, and their occupations were listed as seamstress, barber and apprentice shoemaker. Both the 1870 and 1880 census show the family as it continues to grow; by 1880 their eldest daughter, Olivia, age 23, was a teacher. Most interestingly, their eldest son, James (1858-1916) attended the University of Pennsylvania where, in 1881, he received a degree in the school of dentistry and was the first African American to earn a Penn degree. The James Brister Society of the University of Pennsylvania, an active and highly respected group, was named in his honor and rewards students of color for their leadership and achievements. This is the only sampler that is known from that school.
Linda is grateful to Amy Finkel for her research about this sampler. Image Courtesy of M. Finkel & Daughter.
For those of you who like to read historic novels, this one, "Figures in Silk" by Vanora Bennett is about the silk women who worked in London during the 17th century. It's widely available through Amazon or Barnes and Noble.
An update on the V&A Spot sampler; I believe I have found the right metallic threads and they have been ordered but seem to be on a slow boat arriving here. Anyway, it will be ready this year.


Another sampler that will be available this year is from The Kutztown Area Historical Society Museum, I am quite excited about this one and have quite a bit of information on Helena Kutz.
Illustrated in Girlhood Emboidery by Betty Ring, Volume II, p.457
Online Class
Just a reminder that the deadline for signing up for Hannah Thornbush is April 25th.
The original sampler measures 33.25" x 7 3/8" worked over three threads of linen, on 45 count it will measure 7" x 36" and on 40 count it will be 7.8" x 40.8. It is worked with double running, satin, running, detached buttonhole, eyelet, long armed cross, montenegrin, couching and marking cross. There is some interesting stuff going on underneath the detached buttonholed stitched areas. Colors will be some what brighter than pictured. You will be shipped the linen and silk, mainly soie d'Paris and each month you will receive the section of the chart and instructions. Each month there will be a charge of $10 and it will take 10-11 months. You will be charged for any extra soie d'Paris needed. Cost $236.00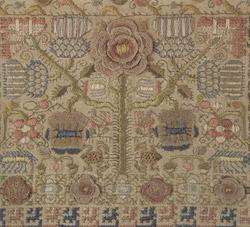 Detail of one of the bands.