November 2010 Newsletter
Wishing all of you celebrating Thanksgiving a wonderful day.
Winter has arrived here in full force and it's good hibernating weather.
Some of the dates for A Gathering of Embroidery have changed and lectures have been cancelled. Cynthia Burr will be taught on February 5th & 6th, 2011 and Esther Coggshell will be taught on February 8th, 2011. For more information you can get in touch with Jeannine through www.stitchingbee.org
Current Exhibits
Don't forget the following exhibits which are on now.
MFA Boston Exhibits: Embroideries of Colonial Boston: Samplers and Embroideries of Colonial Boston: Schoolgirl Pictures. These two exhibitions will run consecutively from November 20, 2010 through August 28, 2011.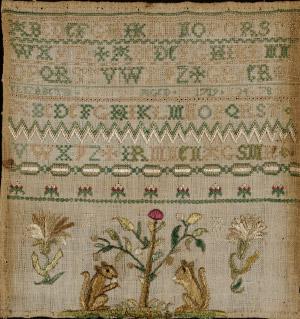 Connecticut Needlework: Women, Art, and Family, 1740 - 1840 October 5, 2010 - March 26, 2011. This exhibit is at the Connecticut Historical Society, One Elizabeth Street, Hartford CT.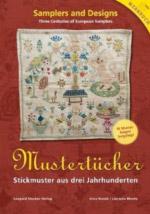 New Book
Mustertücher: Stickmuster aus Drei Jahrhunderten Bilingual book on European samplers by Irina Hundt and Lorraine Mootz (2010). In English the book is titled "Samplers and Designs: Three Centuries of European Samplers" and the text is written in both German and English. Research for the book was conducted by Lorainne Mootz who has her own extensive collection of samplers, and also works at the German Sampler Museum (Das Deutsche Stickmuster-Museum) in Celle, Germany. The 120 page book contains information on forty-four European samplers, stitched in ten different countries (Great Britain, Germany, Denmark, France, Austria, Sweden, The Netherlands, Belgium, Spain, and Italy). In addition to 140 color photos, the book includes 16 black and white charts for reproducing 16 of the samplers illustrated and discussed in the book. We will have this available but probably not until after Christmas.
Newport Samplers
We have been looking at samplers from Providence. The following are from Newport, Rode Island.
The earliest group of samplers from Newport predate those made in Boston and Philadelphia. By the 1770's the group referred to as "the frolicking people", was well established and these all are worked in layers with most having elaborate floral borders and a house which was usually blue. The large birds and the cartouche for the maker's name were added somewhat later in time.
| | |
| --- | --- |
| From a private collection | From the MFA in Boston |
| From Christie's Auction House | Museum of Art, Rhode Island |
New Samplers
The following samplers are new to The Essamplaire: