May 2010 Newsletter
The Museum of Fine Arts, Boston (MFA) is planning an exciting series of exhibitions on the topic of Boston Embroidery: Embroideries of Colonial Boston: Samplers and Embroideries of Colonial Boston: Schoolgirl Pictures. These two exhibitions, running consecutively from November 20, 2010 through August 28, 2011, explore the lives of Boston women and their role within colonial society through their needlework.
Click here to see a slide show of some of the items on display.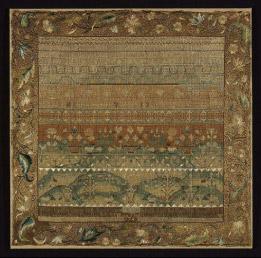 The exhibit on Connecticut samplers will be in Hartford Connecticut.

We are working on adding a shopping cart to the website ensuring you can make secure purchases online. It should be done some time this summer.

We are also adding a blog to the website which will be different than the newsletter, so watch for that.

As well there will be another on line class, a sweet bag, starting the middle of July. It will be a good summer project to start with as it's small and a lot of filling in with tent stitch.