April 2010 Newsletter
Coming Up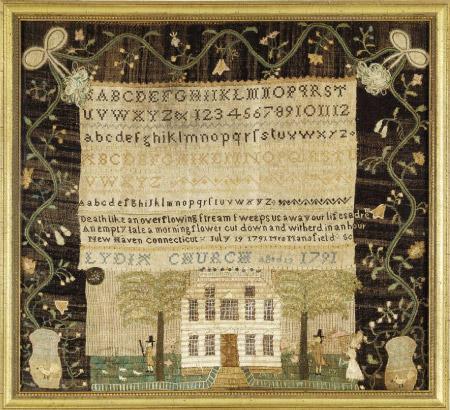 Connecticut Needlework: Women, Art, and Family, 1740 - 1840
October 5, 2010 - March 26, 2011
Connecticut women created imaginative, colorful, and distinctive needlework, including samplers, bed rugs, crewel embroidery, silk embroidered pictures, and early quilts. This exhibition showcases more than seventy fascinating examples - many never previously exhibited - from the Connecticut Historical Society's unparalleled collection of this early American art form.
This project is supported by generous grants from the Coby Foundation, Ltd. and the National Endowment for the Arts. An illustrated catalogue by Curator Susan P. Schoelwer will accompany the exhibition.
Connecticut Needlework Women, Art, and Family, 1740-1840 By Susan P. Schoelwer Masterworks from the extraordinary needlework collections of the Connecticut Historical Society.
Sweet Bags available at www.careycompany.com A wonderful book with numerous images of Sweet Bags and instructions for making them along with great diagrams for stitches.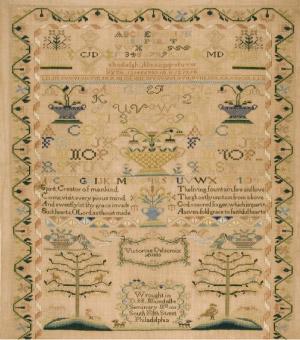 Available Next Week

Victorine Delacroix-1833 Wrought in D.H. Mundall's Seminary No. 101, South Fifth Street, Philadelphia. A reproduction from Winterthur.
A couple of other examples from the same school from a private collection.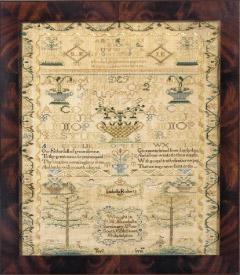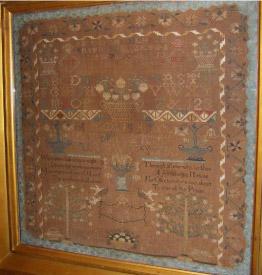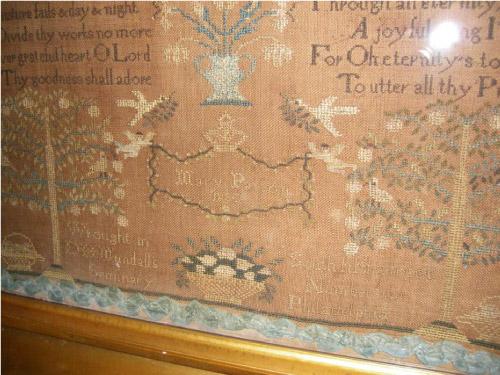 The location of the Mundall Seminary on South 5th Street in Philadelphia is quite interesting. It is located directly across the street from "Old City Hall" which is adjacent to Independence Hall. The building that housed the seminary was torn down in the 19th century although partial views exist in early photographs and watercolors. It was a typical (for the neighborhood) Philadelphia rowhouse. The site of the seminary is now a garden dedicated to Thomas Jefferson. The seminary was located between the Library Company founded by Benjamin Franklin and the house built by the artist Gilbert Stuart. Unfortunately, both of these buildings have been lost (although the Library Company building was re-built based on the original plans.)
Mrs. Mundall's seminary was listed in Philadelphia City Directories from 1828 through 1842. Her husband, John, was listed as a merchant at the same address. He died in 1836 or 1837. Deborah Hicks Mundall died in 1850.
Deadline

Deadline for registration for the Elizabeth Creasey course is May 1st 2010.