End of Winter Newsletter
It has been awhile since I have sent out a newsletter. Things have been busy. Spring seems to be on the way, although up here we can still get snow in May, but for now it's great. Our winter has been the warmest and driest in 63 years and I know that is not the case for those of you living in the east and in some places in Europe.
Some of you will already know about these exhibits but for those of you that don't here are some links to various exhibits that are on at present.
Through The Eye of a Needle
This exhibit runs from February 2010 to January 2011 at the Ulster American Folk Park Museum in Ireland. Click here to read more.
Gloves & Coifs
Great website for those of you interested in gloves and gauntlets with numerous close up pictures. Click here to read more about the collection.
Check out www.museumofcostume.co.uk they have 17th century gloves.
I have mentioned this web site before but if you click on watch accessories and then on the dates 1600-1650 you can click on either the left or right arrow and then on each individual object. There are three pairs of gloves and you can zoom right in on them and move the entire glove around.
If you are interested in coifs have a look at the following web site.
Museum of Fine Arts
The Museum of Fine Arts in Boston has their samplers on line. Click here, then go to collections and type in samplers in the search bar.
Samplers from various Canadian museums. Go to image gallery and type in sampler.
For those of you interested in antique textiles to purchase.

Elizabeth Creasey - 1686
The online class for Elizabeth will start June 1 and the cost will depend on the size of linen. The reproduction will be worked on a cream coloured linen; the photo is on the dark side. It will be worked with soie d'Paris, soie d'alger and a little of soie gobelin and linen thread and some metallic thread. On 55 count linen it will be $247.00. On 50 count linen it will be $267.00. On 45 count linen it will be $293.00 and on 40 count it will be $311.00. We will also look at other samplers of the period featuring similar bands and you will receive close up images of these. Some of the history will be covered as well. We will have step by step photos of a number of the stitches. You will receive the chart with the initial supplies. Stitches used are montenegrin, marking cross, double running, satin, chain, eyelet, detached buttonhole, hem stitching, stem, woven bars, picots and buttonhole bars. You will receive the chart with the initial supplies. The class will run 11-12 months and the monthly fee will be $11.50 Deadline for registering is May first.
New Products & Free Chart!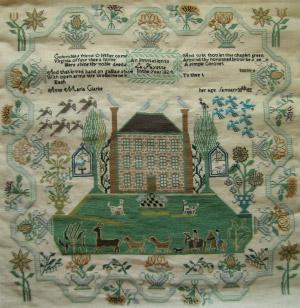 We will be offering the Richmond sampler, Maria Clarke-1824, in the Fall, more information will be available at a later date.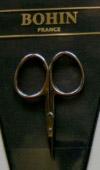 NEW Bohin Scissors
These are great small scissors, they measure 2.25"
in length and they are just as great as the needles
made by Bohin.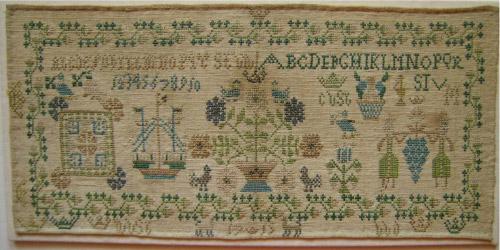 You will be receiving a second email with the above chart. It's most likely from the province of Groningen in the Netherlands. Dated 1713. Note the sewing cushion. The entire sampler is worked in cross stitch on 40 count linen. Some metallic thread is used and the remainder is worked in soie d'alger silk. Use one strand of silk in the needle and work over two threads of linen.
For those of you who want a kit, it is available for $49.50. Click here to see the details.