December Newsletter
I would like to wish you all a wonderful Holiday Season and that 2010 may bring you Joy, Peace and Good Health.

I want to thank all of you for your patronage this past year as it means a great deal and makes it possible for me to continue bringing you new samplers.
The Fitzwilliam Museum has a number of their samplers on line www.fitzmuseum.cam.ac.uk go to collections and under search type in samplers. Not all have images but you can also search for ones with images only. The book, "Samplers" by Carol Humphrey is available through their book shop.
Textile Museum in the Netherlands www.textielmuseum.nl/en in English.

The Museum of Bags and Purse has an exhibit on English purses, which is on until some time in February 2010. www.tassenmuseum.nl click on the English flag to read more in English.
The Rijksmuseum in Amsterdam has an online exhibit of accessories which includes small purses, lace collars, gloves and other accessories www.rijksmuseum.nl go to collections then to Accessorize. Along the bottom you can select a period in time or what it's made from and then it loads a number of images. On the left is a small arrow pointing upwards which will take you from one object to the next and you are able to select each one and read the details on it and zoom in.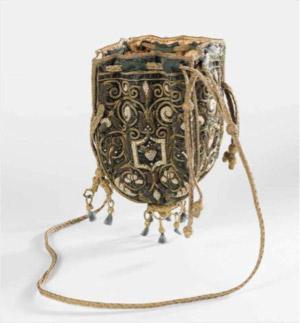 The deadline for registering for A Gathering of Embroiderers has been extended to Dec.15th. www.stitchingbee.org One of the projects.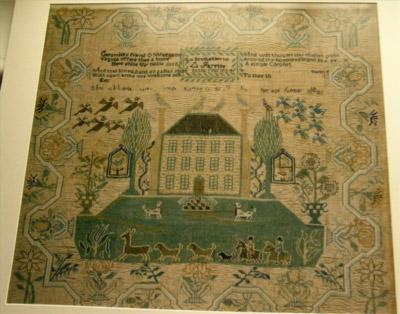 Next years on line classes
For intermediate stitchers it will be either this Friesland sampler, DE and dated 1700, 1701, 1702 and 1703. Worked in silks and linen threads, using cross, satin stitch, Algerian eye, wipped stitch and an open worked stitch which involves removing threads as well as fancy hem stitching with picots along the edges.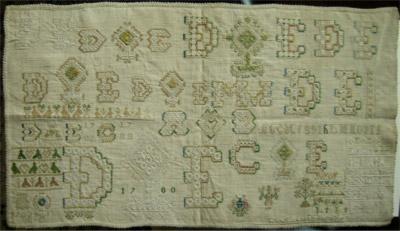 OR
This late 17th century one from Hoorn worked in silk using satin, eyelet, four sided, double running and cross stitch.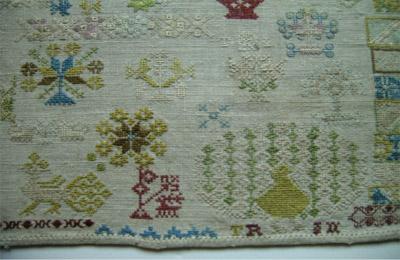 You can decide by letting me know by the end of December.

For advanced stitchers we have a band sampler with five colored bands and seventeen worked in whitework. Stitches used are Montenegrin, cross variations, double running, satin, chain, eyelet, trellis and numerous spangles in the colored sections. In the whitework section there is hem stitch, satin, double running, eyelet, buttonhole, dot and stem stitch, with buttonhole bars, cut and drawn work with needleweaving and needlepoint lace filling stitches.
We will have short videos for a number of these techniques.

For those of you who have the book, "Samplers and Tapestry Embroideries" by Marcus Huish, the top section is pictured on plateVI.