AG-17th century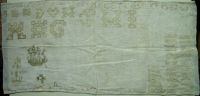 AG's sampler is of Friesian origin and worked on a very fine linen with silk thread. She stitched a couple of different alphabets and numerous small decorative bands which were used on collars and cuffs of clothing as well as a ship.
Size: 12.75" x 27.5"
Thread Count:
Colour:
Recommended Level:
Cost: $575.00
Categories: Antiques
ID: as6
All prices are in US Dollars.