IFD 1695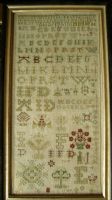 IFD her sampler is from the south west corner of Friesland. The earlier ones from this region are long, vertically. It contains a spinning monkey and some wonderful illuminated lettering and geometric motifs.Conservation mounted and framed.
Size: 28" x 15"
Thread Count:
Colour:
Recommended Level:
Cost: $6900.00
Categories: Antiques
ID: as34
All prices are in US Dollars.