HANNAH BILLINGE FEAR - 1811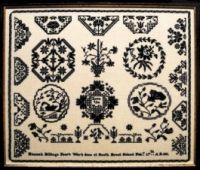 We are pleased to offer this Quaker sampler made by Hannah at South Brent School in the UK. There is a South Brent School in Somerset, and another near Totes in Devon. The original sampler, like many of them, was worked in an extremely fine wool ground. Hannah's sampler is like so many other
Quaker samplers in its use of the half and full medallion patterns. The inscription reads, "Love the Truth." Worked mainly in cross stitch with some cross over one. The Bristol Museum houses the original, access no. N3922.

Size: Finished Size: 15 15"x 13" on 40 count linen (16 th/cm) linen
Thread Count: or 17" x 14.75" (43cm x 37.5cm) on 34 count (14th/cm) linen
Colour:
Recommended Level: Beginner to Intermediate
Cost: Price: Silk - $56.00 DMC - $45.00 cht $24.00
Categories: 19th Century English, Quaker
ID: 229
All prices are in US Dollars.