Catherine Congdon 1773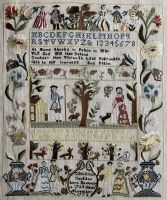 New! This sampler is new to our collection.

Catherine Congdon-1773
It's most likely that Catherine started her sampler in the summer of 1773. Catherine's sampler is one of the earliest samplers we know of that feature "frolicking paople" and the borders with the large urns with flowering vines growing from them. A sampler made by Rebecca Wilbor in 1773 has a similar border and frolicking people. Catherine however stitched 11 figures whereas Rebeca only stitched five. Rebeca stitched Newport, Rhode Island on her sampler and it's safe to assume that Catherine stitched her sampler there as well and the girls were probably class mates.
Catherine was born November 10, 1763 and died August of 1833. She may have been the daughter of Captain Benjamin Congdon and Catherine Taylor of Newport and they were married August 9, 1760 by the Baptist minister, Gardiner Thurston. Catherine married Captain John Briggs on August 11, 1789 and by the same minister.

Stitches used are cross stitch, tent, stem stitch, cross over one,algerina eye and free hand embroidery.
Detailed diagrams and a pattern to trace the freehand embroidery are included.

Thanks to Jackie Reagan for all the help in figuring out this sampler and for stitching the model.

Size: 14 x 11 3/4 in (35 x 30 cm)
Thread Count: 36 ct (14 thr/cm) linen
Colour:
Recommended Level: Intermediate to Advanced
Cost: Chart $38
Categories: Rhode Island, North American / Mexico, This Year
ID:
All prices are in US Dollars.