Elizabeth Shreve-1807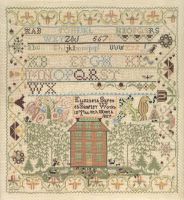 New! This sampler is new to our collection.

Elizabeth Shreve-1807
Job Shreve and Elizabeth Gauntt of Burlington County, New Jersey were members of the Upper Springfield Monthly Meeting; both families had long been members of the Society of Friends and been in Burlington County for many generations. Notably, Elizabeth Gauntt's uncle was John Woolman, famed Quaker preacher, author and activist. The births of the couple's 11 children were all recorded in the minutes of the Upper Springfield Monthly Meeting. Our samplermaker Elizabeth, and her twin brother Job, were born 27 October 1789. Siblings were Hannah (1781-1783), Abigail (1785-1854), Hannah (Jan-Sept. 1788), Caleb (Jan-April 1792), Thomas (1793-1795), Rebecca (1797), Caleb (1800-1841), Mercy (1802-1812). Job died in 1822.
In 1811 Elizabeth married Richard Cook (1784-1825) and the couple had six children: Rachel (1811, named for her paternal grandmother), Thomas (1815), Ann Eliza (1818), William (1820), Sarah Ann (1821), Gulielma Maria Springett Penn (1824, named for the wife of William Penn). Elizabeth died in 1853 in England and is buried in the Whitechapel burial ground.
)She used cross stitch, algerian eye, queen, four sided. saw tooth satin, satin and free hand embroidery mainly worked in tent and stem stitch Full sized diagram is included for the free hand.
.
Size: 12.5 in. x 11 in. (32cm x 28cm).
Thread Count: 36 ct (14.4 thr/cm)
Colour:
Recommended Level: Intermediate
Cost: chart $33.00
Categories: This Year, North American / Mexico
ID:
All prices are in US Dollars.