Abigail Davis-1820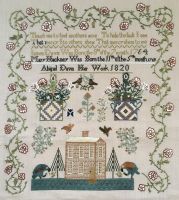 New! This sampler is new to our collection.


Abigail was born 15 August 1808 in Gloucester County, New Jersey, Abigail was the eighth of nine children of Quakers James Davis and Mary Hackney Davis. The family resided in the small hamlet of Almonesson, situated near what is today the border with Camden County. Records indicate that James Davis' name appeared on a resolution to suppress vice and immorality in Deptford Township. Abigail died, unmarried, in 1828 at the age of 20.

Abigail's sampler was documented in American Samplers by Bolton & Coe in 1921. The undulating rose vine border has been recognized as a Burlington design, but whether Abigail made the sampler in Burlington or whether the border style was a regional characteristic that spilled over into Gloucestor cannot be determined. She does not give the name of her teacher or school to help with this identification.

The sampler was stitched using queen, outline, cross, satin, stem and rice stitch. The original sampler is in a private collection.

Jackie Reagan did the freehand analysis on Abigail and stitched the model.
Size: 12.5" x 11.25" (32cm x 28.5cm)
Thread Count: 35 ct (14 thr/cm) linen
Colour:
Recommended Level:
Cost: chart $33
Categories: This Year, North American / Mexico
ID:
All prices are in US Dollars.