HANNAH SAUNDERS (1803)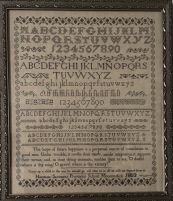 Hannah stitched her sampler while at the provincial school of Mountmelick in Ireland. This was a Quaker School founded in 1786. Mountmelick was a centre for the manufacturing of woolens and cottons. When the town was hit by hard times an embroidery industry seemed to developed which
consisted of a particular form of white work. The Quakers were strongly established in the area and embroidery skills were taught in their schools and were used in adult life to produce white work. The style of lettering (Block Letters) and the ligatures point to this being a Quaker sampler. Worked entirely in cross stitch and some cross stitch over one thread in black thread.
Size: Finished Size: 16 1/2" x19"
Thread Count: 35 count (14 thr/cm) on natural linen.
Colour:
Recommended Level: Beginner
Cost: Chart - $28.00
Categories: 19th Century English, Quaker
ID: 180
All prices are in US Dollars.