Elizabeth Forwood-1813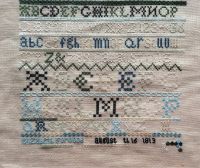 In the early 20th century, Henry Francis du Pont created a grand country place at Winterthur that today encompasses a 175-room house, a 60-acre naturalistic garden, and 1,000 acres of woodland and meadows. With an emphasis on both beauty and comfort, H. F. du Pont furnished the rooms of his home with American antiques and other decorative and fine arts objects, representing the best in craftsmanship and style available to Americans between 1640 and 1860.

Mr. du Pont had a special love for textiles and needlework; as a result, he acquired more than 700 pieces of American needlework for what is now the Winterthur Museum collection. Since his death, the museum has added to the collection through purchase and gifts from generous donors. In 2016 Winterthur acquired a sampler wrought by twelve year old Elizabeth Forwood of the Brandywine Hundred of New Castle County, Delaware, in 1813. During the 17th, 18th, and 19th centuries, young girls were instructed in needlework skills. Some learned at home, but others attended schools for instruction by skilled needlewomen. One of the first works a girl created was a sampler to learn her stitches. She might later make other decorative samplers.

Elizabeth was the sixth of ten children. She completed her first known sampler on or about August 16, 1813, followed by a completed pictorial sampler with drawn work prior to her December birthday in 1813. The earlier sampler, showcases a variety of stitches requiring a certain level of skill - eyelet, queen, four sided, tent and cross stitches. Access. 2005.0035.
Size: 6.5" x 6" (16.5 cm x 15cm)
Thread Count: 35 ft (14 thr/cm) linen
Colour:
Recommended Level:
Cost: chart $18.00
Categories: North American / Mexico, Winterthur, Miniatures
ID:
All prices are in US Dollars.