Ann Peartree-1739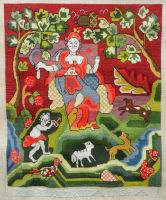 Ann's tent stitch picture possibly depicts the personification of Charity or Spring. It is the earliest dated and signed embroidered picture made in Boston. Susan Condy placed advertisements that she copied and sold designs from London for tent stitch pictures. She also offered patterns for a wide range of needlework goods such as pocketbooks, fire screens, housewives, etc. Ann's design maybe from a Condy source copied from a design from London. Ann's earlier sampler, dated 1734 is in the style of the Adam and Eve samplers attributed to Susan Condy. see p. 68-69 and p 130 in, "Woman's Work, Embroidery in Colonial Boston" by Pam Parmal. From the collection of the Museum of Fine Art, Boston, access. no. 59.22.


You will receive a line drawing which will have to be traced onto the linen, a blown up line drawing showing which colour to place where, an exact size colour copy and for those that prefer an even larger colour copy from which you can actually count.

Size: 9" x 11.5" (23cm x 29.5cm)
Thread Count: 35 thr per inch or 14 thr per cm.
Colour:
Recommended Level: Beginner to Intermediate
Cost: cht. $38.00
Categories: , North American / Mexico
ID:
All prices are in US Dollars.