Phebe Kriebel-1857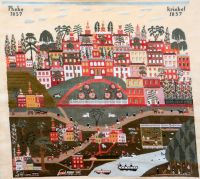 Phebe's needlework picture belongs to a group of at least nine others made, and hers probably originates from Worcester Township, Montgomery County, where Phebe was raised. Her name was Phoebe but she signed it Phebe. She stitched her needlework a year before she married Abraham K. Kriebel . Most of the needlework pictures from this group were stitched by older girls. Phoebe S. Kriebel was born on 20 Jan. 1837 to Isaac S Kriebel and Christina Schultz. She married Abraham K Kriebel and they had 7 children. Phoebe passed away on 16 Sep. 1894. They resided in Towamencin Township, Montgomery County.
The original needlework is housed at the Schwenkfelder Library and Heritage Center. 1955.01.01 and was worked with wool on canvas and we have done it with both Au ver A Soie silk and Needlepoint Inc. silk. In order to get the coverage needed, even on 40 count, it has to be stitched using two strands of silk. It's worked mainly in half cross stitch, tent and satin stitches.
Size: 18.5" x 19.5" (47cm x 49.5cm)
Thread Count: 40 count (16 thr/cm) linen
Colour:
Recommended Level: Intermediate
Cost: chart $49.00
Categories: Last Year, North American / Mexico, Pennsylvania German
ID: 357
All prices are in US Dollars.