Abigail Mears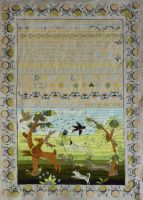 Abigail Mears an American sampler from the collection of the Cooper Hewitt You will receive all the supplies along with a line drawing for the bottom section.
The top section is worked in cross stitch, satin, algerian eye, back stitch and stem stitch. The bottom section is worked entirely in satin and stem stitch.


Size: 18" x 26" (46cm 66cm)
Thread Count: 40 ct. linen or 16thr/cm
Colour:
Recommended Level: Intermediate
Cost: cht. $39.00
Categories: , This Year, North American / Mexico
ID:
All prices are in US Dollars.