GI 1674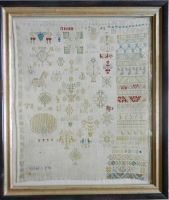 This sampler is from the city of Hoorn in the Netherlands. Many of the early samplers from here have the dappled horse, the peacock with it's tail in full show, the clasped hands, some of the bands, the basket with the single flower, the grape carriers with their hats at a jaunty angle and the pot with seven flowers. A number of these are pictured in " Over Merklappen gesproken" by M.GA Schipper van Lottum on page 54 and 226. This particular one is pictured in "Samplers in the European Tradition", plate 4 and in "Common Thread/Common Ground, p. 61
Our sampler is conservation mounted and behind UV glass.

Size: 18.5" x 22" including frame
Thread Count:
Colour:
Recommended Level:
Cost: $3200.00
Categories: Antiques
ID:
All prices are in US Dollars.