Elizabet Flochart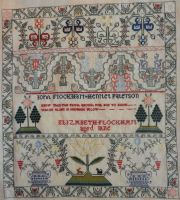 A wonderful Scottish sampler worked featuring two arcaded bands seen frequently on Scottish samplers. The hillocks with evergreen trees a rabbit and dog are another common element. Her father was John Flockhart and her mother Henriet Patterson , the women generally kept their maiden name after marriage.
Stitches used are cross stitch, double running and queen stitch.
Size: 14.25" x 16" (36cm x 41cm)
Thread Count: 40 ct (16 thr/cm) linen
Colour:
Recommended Level: Intermediate
Cost: chart $32.00
Categories: Scottish
ID:
All prices are in US Dollars.