Parrot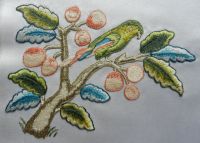 A small parrot based on those found on 17th. century caskets. This one is worked on a silk satin ground using long and short satin stitches, encroaching satin and stem stitch. The majority of caskets were worked on silk satin and this small item is a good way to see if you like stitching on it. You can either frame it or make it into a pin pillow.
Size: 5" x 3.5' (13cm x9cm)
Thread Count:
Colour:
Recommended Level:
Cost: cht. $15.00
Categories: Own Designs
ID: 339
All prices are in US Dollars.