Boy's Birth sampler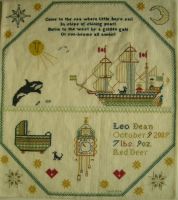 Our lovely boy's birth sampler features a ship sailing through life, fish and a whale jumping out of the ocean, sun, moon, starts, a clock recording the time of birth and a cradle with a baby peeking out. The chart includes the alphabet, numbers and chert for flags from various countries.
The sampler is stitched using cross, cross over one thread, long armed cross, double running and back stitches.
Size: 13.25" x 11.75" (33.5cm. x 30cm)
Thread Count: worked on 35 ct (14thr/cm) linen
Colour:
Recommended Level: Beginner to Intermediate
Cost: cht $29.00
Categories: , Own Designs
ID: 337
All prices are in US Dollars.