Anne Anthony-1786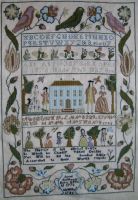 Anne's sampler belongs to the group of samplers stitched in Newport, RI. Many of the samplers stitched in Newport feature a blue house and it was not uncommon to find blue houses in Newport in the mid 1700's. Ann's sampler displays all the characteristics found on Newport samplers, which feature horizontal bands containing pictorial motifs and inscriptions, with wide floral borders along the sides and top and a vase or cartouche at the bottom containing the makers name, birth date and date the sampler was made. Usually there is at least one bird in the top border and some have playful people and animals. Most times the second band contains naturalistic strawberries. Some of the other bands contain richly dressed people with their pets, oversize birds and insects. A large flower similar to a Jacobean rose is stitched as well.
Anne was the daughter of the Newport hatter, James Anthony and Elizabeth Cornell. She married John Wanton Thurston on October 25, 1795 and tragically died less than six months later.

From the collection of the Museum of Fine Arts, Boston, acc,no. 57.580.

Stitches used are cross stitch, cross over one, tent, freehand satin and queen.
Size: 17.25" x 11.75" (43.5 cm x 30cm)
Thread Count: 35 th per inch (14th/cm)
Colour:
Recommended Level: Intermediate
Cost: $152.00-silk, cht. $30.00
Categories: , North American / Mexico, Rhode Island
ID: 328
All prices are in US Dollars.