Elizabeth Russell-1719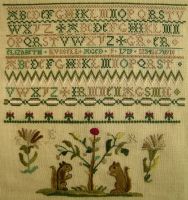 A charming, small American sampler. Elizabeth stitched her sampler using marking cross, eyelet over two threads of linen, double back, queen algerian eye, cross over one and flame stitch. The section at the bottom is worked in freehand and is quite easy to do. You will be provided with a drawn to scale diagram that you will trace onto the linen along with detailed instructions.
From the Museum of Fine Art, Boston, accession no. 42.161.
Size: 8" x 8.5" (20cm x 21.5")
Thread Count: 35 count (14 thr/cm) linen
Colour:
Recommended Level: Intermediate
Cost: Silk $72.00, cht. 24.00
Categories: , North American / Mexico
ID: 325
All prices are in US Dollars.