1749-TI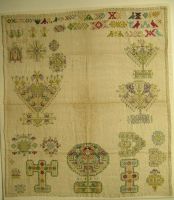 TI's sampler is of Friesian origin and the colors are fabulous. She stitched some interesting motifs and the birds worked in satin stitch blocks, which were used on collars and cuffs of shirts.
Size: 19.5"x 21.5"
Thread Count:
Colour:
Recommended Level:
Cost: $2200.00
Categories: Antiques
ID:
All prices are in US Dollars.