Esther Carrington- 1775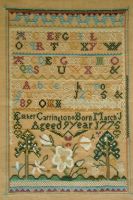 Esther Carrington was born 1 March 1766 in Milford, New Haven County, Connecticut. She was the daughter of Doctor Elias Carrington, a native of New Haven and Esther Northrup. She married the Reverend Isaac Foster on the 10th of September, 1787, at the First Congregational Church in Milford. Isaac at that time was the pastor of the Congregational Church of Great Barrington, Massachusetts. By 1790 he had been dismissed from this church due to lack of funds. Subsequently he became pastor of the Presbyterian Church in Pittsgrove, Salem County, New Jersey, where he died in 1794. Esther Carrington Foster appeared in the 1850 census for her home town, Milford, where she died in 1855. She was buried in the Milford Cemetery with her nephew Nelson Carrington and his wife. Esther was nine years old at the time that she stitched her sampler. 2006.60.1
It's mainly worked in marking cross, satin, double running, tent, queen, some freehand , cross over one, algerian eye, chain and cretan.

Size: 10.5" x6.75" (26cm x 17cm)
Thread Count: 32 count (12th/cm)
Colour:
Recommended Level: Intermediate
Cost: cht. $26.00
Categories: , North American / Mexico
ID: 320
All prices are in US Dollars.