Elisabeth Easdon-1827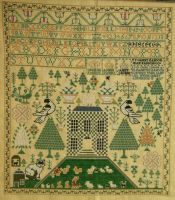 A delightful Scottish sampler made by Elisabeth when she was probably twelve years old. The style of trees are typically found on Scottish samplers as are the peacocks with the seven tail feathers. The cat, bottom left is a nice addition.

Elisabeth was born March 27, 1815 in Glasgow, Lanark to George Easdon and Janet Leckie.

An unusual element to her sampler is the listing of a step-mother Agnes Young, as well as listing her birth mother in black (deceased). Her father's occupation is chronicled as Wright in the city of Glasgow.

Elizabeth married Matthew Gardner Gordon, a servant, 13 June 1839 in Barony. The 1841 Scottish Cenus lists the family as Matthew (35, male servant), Elizabeth (25; she was actually 35), Margaret (14), Andrew (10), Janet (1). Elizabeth's death is recorded in 1884; her husband Matthew was present at the time of her death.

The nice thing about this sampler is that Elisabeth mentions her instructor, Janet Anderson.

Stitches used are cross, cross over one, satin, eyelet and four sided stitch.
Size: 13.5" x 19.5" (34cm x 49.5cm)
Thread Count: 40 count (16 thr/cm) linen.
Colour:
Recommended Level: Intermediate
Cost: cht. $28.00
Categories: , Scottish
ID: 316
All prices are in US Dollars.