Christina Spack-1804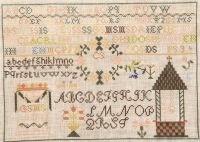 Christina Spach was among the first students to attend Salem Female Academy, in Salem, North Carolina, upon the completion of its new boarding school building in 1804. Her sampler, dated the same year, displays many of the features that characterize Moravian schoolgirl embroidery: the covered well, floral wreath, and plinth with swag decoration. Christina was about twelve years old when she ended her work.


Size: 13 1/4 in. x 9 3/8in. (33.5cm x 23.5cm) on 30 count
Thread Count: On 35 count (14 thr/cm) linen it measures 11.75 x 8 in.
Colour:
Recommended Level: Beginner
Cost: cht. $18.00
Categories: , MESDA, North American / Mexico
ID: 313
All prices are in US Dollars.