1650 North Holland Sampler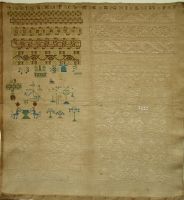 A early sampler made by MG, a Roman Catholic girl as evidenced by the criss cross preceding the alphabet at the top as well as the cross. The onlu thing reversible on the sampler are her intials and the decorative band below it. This sampler is typical of the early samplers made in North Holland in it's use of bands and white work. The white work bands were used on colars, cuffs and head coverings. Great condition, the date 1650 was added later but it's definetly from that time period.
Size: 18" x 19.5"
Thread Count:
Colour:
Recommended Level:
Cost: $2500.00
Categories: Antiques
ID:
All prices are in US Dollars.