TC 1691 Dutch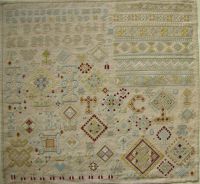 A fabulous sampler from the island of Terschelling of the north coast of the Netherlands. There are at least three other similar samplers. They all feature the wonderful bands with cut work, the five wise and foolish virgins of which five carry an oil lamp thta's lit and five don't, along with Christ with a halo above his head. There are other Dutch samplers with the five wise and foolish virgins but only the ones from the island have Christ wearing a halo. This pattern is based on the story from Matthew 25:1. Geometric motifs, sewing cushions, crowned and pierced hearts and trees of life are other common elements on these samplers. All the bands are worked with coloured silk thread..Difficult to tell who the original stitcher was, could have also been II and ID.
The original sampler is in the Museum fur Kunst und gewerbe. 1911-220.
Stitches used are satin, eyelets, algerien eye, double running, cross stitch, cut work, dove's eyes, wipped stitch and pulled work. Worked with soie du paris silk.
Worked on 45 ct. linen it measures 21" x 20" (53cm x 50.5cm) on 40 count it measures 26.5" x 24" (68cm x 61cm).
Suitable for intermediate to advanced stitchers.
Size: 40 ct 26.5" x 24" on 45 ct 21" x 20"
Thread Count:
Colour:
Recommended Level:
Cost: 45 ct $325.00 on 40 ct is $350.00, cht $34.00
Categories: This Year, Dutch & German
ID: 351
All prices are in US Dollars.