German- ICH-1733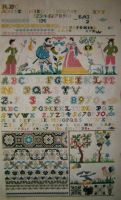 This interesting Southern German sampler is worked almost entirely in either vertical or horizontal rows of montenegrin stitch. The samplers from the south are generally longer than wide and consist of horizontal rows of alphabets, religious and secular motifs and geomertic repeat-patterns. Many of the patterns are from early German pattern books. The couple in the central panel and the geometric repeat pattern of eight pointed stars are from Johan Sibmacher's, "Schon Neus Modelbuch".
The motif of the couple is found on English band samplers from the 17th century as well.
Some double running stitches are found on the sampler as well.
Size: 11.5" x 20"(29cm x 51cm)
Thread Count: 40 count linen (16 thr/cm)
Colour:
Recommended Level: Intermediate
Cost: cht. $22.00
Categories: , Dutch & German
ID: 312
All prices are in US Dollars.