German Spot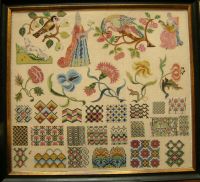 A fabulous spot sampler made in the 18th century in Germany, the original sampler was worked in wool but ours is worked with silk. The top two thirds of the sampler is worked entirely in tent or continental tent stitch, over one thread, creating realistic flowers, birds and women in gorgeous gowns. The shading in these motifs is lovely.
The bottom one third is made up of various geometric patterns using a variety of stitches such as tent, cross stitch, rice stitch, roman stitch, queen stitch. satin stitch, eyelet stitch and Hungarian stitch. These are worked over one, two or more threads of linen. The geometric motifs are often seen on samplers from around Nuremburg as well as other samplers from Southern Germany. These would have been used on various household items, such as slippers, bags, wallets and upholstery.
The original sampler is in the Textile Museum in St. Gallen, Switzerland, accession no. TM20060.




Size: 21" x 19" (54cm x 48cm)
Thread Count: 35 ct (14 thr/cm) linen
Colour:
Recommended Level: Intermediate
Cost: cht. $49.00
Categories: , Dutch & German
ID: 309
All prices are in US Dollars.