Elizabeth Jenkins-1836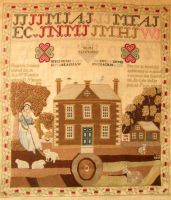 Elizabeth's sampler features a charming pastoral scene with the shepherdess and her flock of sheep. There are two other known samplers with the same scene, including the circular front garden.
Elisabeth was born 5 February 1825 to John Jenkins, a cooper, and Christian Jaffray in St. Ninians, Stirling. She stitched her sampler under the instruction of Isabella McKenzie. The 1841 Scotland census has record of Isabella McKenzie, a 30 year old teacher living at Barnsdale in St. Ninian's.
This sampler is in a private collection.
Stitches used are cross stitch, cross over one, French knots, tent, stem and long and short satin stitch. The kit includes a scale drawing that you will have to trace onto the linen when most of the stitching is done as well as a large coloured picture.
Suitable for intermediate stitchers.
Size: 14"x6" (36cm x 41cm)
Thread Count: 40 count (16 thr/cm) linen.
Colour:
Recommended Level:
Cost: cht. $28.00
Categories: Scottish
ID: 348
All prices are in US Dollars.