Isabella Cook- 1835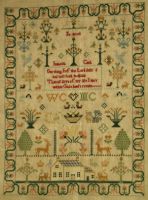 Isabella was born 3 May 1828 in Saddell And Skipness, Argyll, Scotland to William Cook and Mary Thomson. We have been unsuccessful in locating any additional information.

This is the first sampler made by Isabella, her second one is no. 300 and was stitched in 1836.

Isabella used cross stitch, cross over one and rice stitch.
Size: Worked on 40 count (16 thr/cm) linen it measures 12.5" x 16.5" (32cm x 42cm)
Thread Count: On 35 count (14 thr/cm) linen it measures 14.35��? s 18.75��? (32cm x 48cm)
Colour:
Recommended Level: Intermediate
Cost: Cht. $28.00
Categories: Scottish, 19th Century English
ID: 305
All prices are in US Dollars.