Regina Hubnern - 1794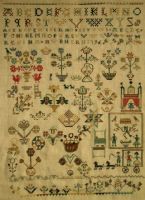 George and Anna Schubert Heeber from Worcester township in Montgomery county, PA. were Regina's parents, whom unfortunately died. She was taken in by relatives, Melchoir Schultz and his wife Salome Wagner Schultz. Their daughters, Christina, Maria and Rosina all made samplers with similar motifs on them. These samplers have eighteen signature motifs identifying them as belonging to Schwenkfelder samplers. Some of these motifs include, tulips, seven flowers in vase, crown with three diamonds, rooster, octagon star, dog, chair and corner flowers. Regina's sampler is illustrated in Samplers of the Pennsylvania Germans by Tandy and Charles Hersh on p. 55. More information on these samplers can be found here as well.
The Schwenkfelders were a Protestant, European, religious group who followed the teachings of Casper Schwenkfeld. They came to Pennsylvania during the 18th century.
From the collection of the Schwenfelder Library in Pennsburg, PA.

The majority of this sampler is stitched in cross- stitch with the large tulips towards the bottom worked in chain stitch, and satin stitch is used along the bottom edge.

Size: On 32 (12.5 thr/cm) count linen it measures 16" x 22"(41cm x 46cm)
Thread Count: on 35 ct it measures 15" x 20.5" (38cm x 52cm)
Colour:
Recommended Level: Intermediate
Cost: cht. $28.00
Categories: Pennsylvania German, North American / Mexico
ID: 304
All prices are in US Dollars.