Elizabeth Bechtel-1833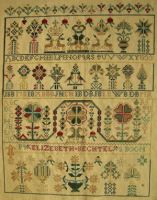 Elizabeth Bechtel was the daughter of John S. and Maria G. (Hoch) Bechtel. She was born December 8, 1816, in Colebrookdale Township, Berks County, PA. Her grandfather, Isaac, was the first settler in the area of Colebrookdale that became Bechtelsville Borough, named after her father. John Bechtel was a farmer. He also owned a general store and a grist mill. The family belonged to the Hereford Mennonite Meeting where John was a deacon. Many original Bechtel houses still stand in the borough,
including Isaac's and John's, although the latter is much altered. Elizabeth married George S. Krauss, a Schwenkfelder, on October 13, 1836, and converted to her husband's faith. He followed his family occupation as an organ builder. Both the Schwenkfelder Library and Heritage Center
and the Historical Society of Berks County own organs made by the Krauss's, as do a number of local churches. Elizabeth and George had three children, Allen, Edwin, and Susan. She died July 2, 1884.
Her sampler was made under the instruction of Sarah Boone, a single Quaker woman from Exeter Township, Berks County. She taught local girls in the summer months at the Oley Select School, on the Hoch farm. It is possible that Elizabeth spent time in Oley attending school there, as her
mother was originally from Oley and had many relatives there. Sarah was also known to spend part of the year living on local farms, where she would teach the young girls sewing. More likely, this is how Elizabeth was taught.
Her sampler shows a combination of influences. The so-called heart flowers within an arcaded band located above her name first appeared on Esther Bertolet's 1828 sampler, also made under Sarah Boone's instruction. The vase with seven flowers centered in the bottom band is an Oley area motif, most likely from her mother's sampler. The initials along the center represent family members, including grandparents, parents and her four brothers. Most of the remaining motifs are clox
patterns, common in the Hereford area of Berks County, and present on other Bechtel family samplers.
Elizabeth's sampler is owned by the Schwenkfelder Library and Heritage Center, along with a related sampler most likely stitched by her sister-in-law, Rachel Schultz.

Size: Measures 13.25" x 17" (33.5Cm x43cm)
Thread Count: Worked on 32 count (12.8 thr/cm) linen
Colour:
Recommended Level: Beginner to Intermediate
Cost: cht. $26.00
Categories: , North American / Mexico, Pennsylvania German
ID: 292
All prices are in US Dollars.