Rebecca Budd-1801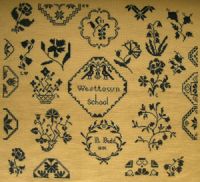 Rebecca Budd, of Mt. Holly, New Jersey, entered Westtown School, a Quaker school when it first opened in May 1799. She was female student #16. Born in 1773 (though the Westtown record lists her age as 20 years when she entered), Rebecca was the daughter of Stacy and Sarah Budd. Rebecca was promoted to teacher at Westtown in November 1799, and taught arithmetic, grammar, and writing until February 1803. In June 1803 she married John Comly whom she had met while both were teaching at Westtown, he from April 1801 to November 1802. Rebecca and John Comly settled on their farm in Byberry Township, Pennsylvania, where they raised their family and operated a school, Pleasant Hill Boarding School, from 1804-1815. Rebecca Budd Comly died in Byberry in 1832.

Rebecca's sampler is worked in cross-stitch and cross over one.
Size: Measures 14 3/4" x 12 1/8" (37.5cm x 30.5cm) on 36 count (14thr/cm) linen
Thread Count: Measures 13" x 11.4" (33 cm x 29 cm) worked on 40 count (16 thr/cm) linen
Colour:
Recommended Level: Intermediate
Cost: cht.$22.00
Categories: , Quaker, North American / Mexico
ID: 290
All prices are in US Dollars.