Ann Marsh Pin Pillow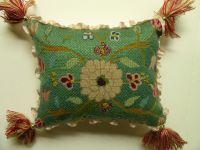 One of a number of needle work items stitched by Ann. She was the daughter of Elizabeth, the premiere schoolmistress , from 1723 to 1740, in Philadelphia. Ann taught along side her mother and continued after her death. She never married and in the late 1700's moved to Chester County to live with a niece and her family. The original pinpillow is in the collection of the Chester County Historical Society.
Stitches used are queen, Hungarian, and tent stitch, french and bullion knots.
Kit includes silk ribbon, silk thread, pencil, beads, wool for stuffing, linen, cotton, silk fabric for backing, silk floss, pencil and chart and instructions.


Size: 5" x6" (13cm x 15cm)
Thread Count: 35 count (14th/cm)linen
Colour:
Recommended Level: Intermediate
Cost: cht. $28.00
Categories: , North American / Mexico, Quaker
ID: 282
All prices are in US Dollars.