AMELIA DAVIS (1798)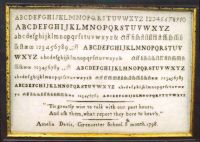 Amelia made her sampler while attending the Cirencester School in England. Most likely a Quaker School as this sampler has all the characteristics of Quaker instruction as seen in the upper and lower case Roman alphabet and ligatures. This alphabet was published in school books in the 1600 and 1700's and the Ackworth School was one of the first schools to use it in samplers. Ackworth School was a large Quaker boarding school for girls and boys in Yorkshire, England. Lady Baden
Powell attended the Cirencester School. She saw this particular sampler on display at Expo (World Fair) in Montreal 1967 and was pleased to see it. Amelia Davis is believed to be the grandmother of Julia Houndslow. no.146.
Worked mainly in cross stitch over one thread. Original sampler shown in photograph.

Size: Finished Size: 8 1/2" x 15 3/4" (22cm x 40 cm) on 40 count (16th/cm)linen
Thread Count: OR: 10" x 18" (25cm x 45cm) 0n 35 count (14 th/cm)linen
Colour:
Recommended Level: Beginner
Cost: Chart - $18.00
Categories: 18th Century English, Quaker
ID: 147
All prices are in US Dollars.