Janet Fairgrave- 1800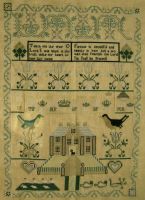 Janet stitched a very typical Scottish sampler with its pansy band, the "S" handled vases with tulips and the house with a fenced yard and path. Another frequent feature to Scottish samplers are the crowns with family initials below them. The house is one of three different styles of houses used on samplers from Scotland. What makes this sampler unique is the coloring, the freehand birds and the sheep and peacocks along the bottom. It seems that she unpicked her age, a more common occurrence, as the young lady didn't want her age to be known. The verse is a well known one, "favour is deceitful and beauty is vain…" Our sampler is a reproduction from the Royal Scottish Museum.
Stitches used are cross-stitch, rice stitch, double running stitch, satin, cross over one, chain
stitch and some freehand.



Size: 13.5" x 19.5" (34cm x39cm)
Thread Count: Worked on 40 count (16 / th cm) linen
Colour:
Recommended Level: Intermediate
Cost: Silk $113.00 DMC $98.00 chrt.26.00
Categories: Scottish
ID: 269
All prices are in US Dollars.