FW-1801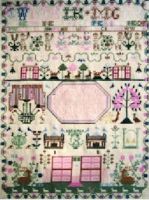 A rather unusual Scottish sampler in its use of the geometric colored windows in the house and the oblong shaped carnation. The puttis or boxers are rather late in their appearance on this sampler as they are usually seen a couple of centuries earlier on English samplers. The illuminated initials in the top section are a common feature on Scottish samplers as are the peacock with its open tail feathers, the tree beside it, the fountain with the birds and the grass along the bottom with sheep and a dog. The pairs of initials are most likely family members. FW was fourteen years old when she stitched her sampler.
Stitches used are cross, double running and satin stitch. This sampler is illustrated in, "Samplers: How to Compare and Value" by Stephen and Carol Huber on page 68. Formerly in the collection of the Essamplaire.
Size: 14" x 19" (36cm c 48cm)
Thread Count: 40 count (16 thr/cm) linen.
Colour:
Recommended Level: Intermediate
Cost: Chart $22.00
Categories: Scottish
ID: 252
All prices are in US Dollars.