Elisabeth Ewing - 1764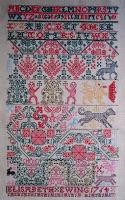 Elisabeth's delightful sampler features a number of bands and motifs typically found on English band samplers a century earlier although hers is Scottish. The puttis, or boxers, the stag, the lion and the three arcaded bands at the bottom of the sampler are some of these features. Elisabeth's sampler is stitched reversibly in the usual reds and greens found so often on Scottish samplers. The original sampler was stitched using crewel yarns.
Stitches used are reversible cross, four sided, double running, chain and eyelet.

Size: 14.25" x 8" (36 cm x 21cm)
Thread Count: 35 count (14 thr/cm) linen
Colour:
Recommended Level: Intermediate
Cost: cht. $22.00
Categories: Scottish
ID: 249
All prices are in US Dollars.