ISOBELL STUART - 1762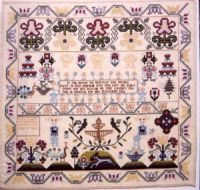 Scottish samplers can generally be placed in two categories. The first ones were wool on coarse linen. The others were worked in silk on a wool or linen ground. Isobell's sampler belongs to the second category. The ones stitched with wool were made earlier than the silk ones. A wonderful number of motifs have been stitched on this sampler, including an arcaded pansy band found frequently on Scottish samplers, as are the birds flanking the fountain, the vases with tulips, Scotty dogs, and the peacocks. This style of peacock, with the individual tail feathers can also be found on Dutch samplers. Isobell included the Scottish thistle and Tudor rose as well. She refers to her sampler as "A boot-cloth."
Stitches used are cross, double running, queen, satin, and cross stitch over one. The original is in the Royal Scottish Museum access no. A1993.106.
Size: Finished Size: 14 3/4" x 15 1/4" (37cmx39cm) 0n 40 ct(16th/cm) linen
Thread Count: OR; 16 3/4" x 17 1/2" (43cm x 44cm) on 35 ct (14th/cm)linen
Colour:
Recommended Level: Intermediate
Cost: Silk - $125.00 DMC - $96.00 cht. $26.00
Categories: Scottish
ID: 228
All prices are in US Dollars.