BETTY PLEANDERLEATH (1745)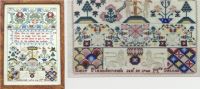 This brilliant sampler is reproduced from a sampler in the Royal Scottish Museum (1939.122). The original is just as bright. It is worked in double running (holbein), cross, Algerian eye, satin, rococo, florentine, rice, cross over one thread and running (seed) stitches. A small border outlines the sampler which contains conventional band patterns; bird and animal motifs, Adam and Eve, upholstery patterns and the first four Commandments. Betty is perhaps the Elizabeth Pleanderleath who married John Gourlay, merchant in Haddington on the 5th of November 1758. Her father is recorded as "deceast Mr. David Pleanderleath, advocate in Tron (Redinburgh)". Mrs. Euphram Seton was a schoolmistress in Edinburgh at this time.
Size: Finished Size: 10 1/4" x 18" (26cm x 46cm)
Thread Count: 35 count (14 thr/cm) on dyed linen.
Colour: Colors: Burgundies, pink, peaches, blues, greens, yellows, tans, beiges and black
Recommended Level: Advanced
Cost: Chart $29.00
Categories: Scottish
ID: 109
All prices are in US Dollars.