Sewing roll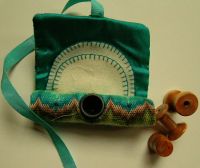 Our small sewing roll is based on an antique one, seen in a museum. It houses two small wooden spools and a thimble, both made by our woodworker. The thread for the spools comes out of two small holes you will make and the thimble rests inside a large hole. It also has two needle leaves made from wool flannel. The entire roll is lined with silk and ties shut with an antique ribbon. Worked entirely in flame stitch using silk floss and some satin stitches and buttonhole stitches to re-
enforce the holes.




Size: 3.75" x 6.75' (9.5 cm x 17cm)
Thread Count: worked on 35 count (14 th/cm) linen.
Colour:
Recommended Level: Beginner to Intermediate
Cost:
Categories: Own Designs
ID: 270
All prices are in US Dollars.