Prickly Pine Needle Book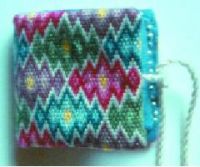 This lovely Irish stitch pattern is another form of the Prickly Pine pattern. We have used this pattern to make a cover for a needle book and pin cushion. A thick wool felt pad is covered with silk and pins are placed all the way around it and wool felt pages are attached to the cushion. The cover is lined with silk and the cushion is attached to the cover. The book is closed with a twisted silk tie.

Size: 2.25" x 4.75"(6cm x 12cm)
Thread Count: 35 count (14th/cm) linen
Colour:
Recommended Level: Intermediate
Cost: cht. $18
Categories: Own Designs
ID: 247
All prices are in US Dollars.