PIN PILLOW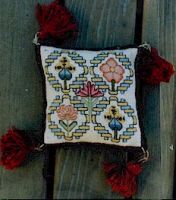 Our pin pillow is based on work done during the 17th century in England. The design was inspired by a small lap cushion which featured the motif repeated a number of times and a similar motif found on a spot sampler from the same period of time. Pins were a precious commodity and expensive. Clothing was often fastened with pins and therefore a manor house would have a number of pin pillows. On page 64 of the book "Victoria and Albert Museum Textile Collection - Embroidery in
Britain from 1200 - 1750", there are a couple pin pillows shown with matching sweet bags. Stitches used on our pin pillow are tent, double running, Roman, rice Hungarian, herringbone, detached buttonhole and trellis. The kit comes with everything needed to complete the pin pillow including the wool roving.
Size: Finished Size: 3 1/2" x 3 1/2"
Thread Count: 40 count (16 thr/cm) linen.
Colour:
Recommended Level: Intermediate
Cost: Chart - $12.00
Categories: Own Designs
ID: 213
All prices are in US Dollars.