Rebecca Walker-circa 1830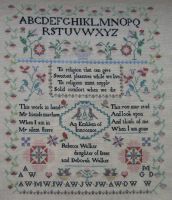 Rebecca was the daughter of Isaac and Deborah Walker( Deborah Dickinson Walker of Sadsbury, Lancaster County, Pennsylvania). This is one of three samplers made by three of their daughters, one was worked by Deborah and the other by Mary, and all three are similar in appearance. Their initials are stitched along the bottom of Rebecca's sampler, as are those of her grandparents, AAW and GMD. They contain a number of the same motifs, verses and cartouche. We know from her
sister, Deborah, that she attended the Oak Grove Seminary in 1836 but this school is unknown now. It is probably safe to assume that Rebecca attended this school as well. This sampler is typical of Quaker samplers made in the Delaware River valley which feature a central cartouche, sprigs of flowers, lettering and floral borders. Naming ones parents and grandparents was also typical
All three samplers are in the collection of the Chester County Historical Society. Accession No. for Rebecca's sampler is NS 15A.
Stitches used are cross stitch, cross over one, queen and algerian eye over two threads of linen.

Size: It measures 13.5" x 16" (34cm x 41cm)
Thread Count: Worked on 35 count linen
Colour:
Recommended Level: Intermediate
Cost: cht $26.00
Categories: North American / Mexico, Quaker
ID: 277
All prices are in US Dollars.