Isabella Carter MaClean-1799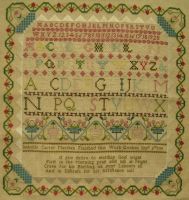 Isabella was the daughter of Mary Martin and Murdock Maclean. Her father was a Scottish soldier during the American Revolutionary War serving in Canada. As soon as the war was over her father returned home. Isabella Carter Maclean was born in Scotland c.1787. Her father received a grant
of land in Canada for his service in the war and the family relocated there sometime after 1787. Isabella completed her sampler in Quebec in September 1799. On February the 4th, 1807, Isabella married Hector MacDonald in St. Paul's Anglican Church, Pt.Prim, Queens Co., Prince Edward Island, Canada. Hector was born c.1781 in Isle of Mull, Scotland. The couple had 10 children between their marriage and 1828. Isabella died c.1857 and is buried in Polly Cemetery, Mt. Buchanan, Queens, Co. Prince Edward Island, Canada.
Isabella used cross-stitch, satin stich, algerian eye and cross over one on her sampler. The original sampler is from the
collection of Bill and Joyce Subjack.


Size: measures 15.5" x 16.25" (39cm x41cm)
Thread Count: Worked on 40 count (16 th/cm) linen
Colour:
Recommended Level: Intermediate
Cost: Silk $146.00 DMC $110.00 cht. $33.00
Categories: North American / Mexico
ID: 273
All prices are in US Dollars.